What's in my bag for 2021?
As someone who has been fortunate enough to be involved with the golf industry for over 30 years I'm privileged to see and try out many of  the new golf  products before anybody else gets a chance. As a Callaway Golf Staff Ambassador I always look forward to February time like a kid at  Christmas as I get to choose my new goodies for the upcoming year. Find out what's in my bag for 2021?
My golf bag has quite a few upgrades since the last WITB with quite a few equipment and technology changes. Here is a breakdown of everything that will be in my bag for 2021 including the clubs, balls, gloves & bag.
Driver – Callaway Epic Max LS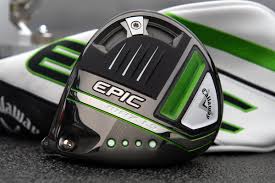 9.0 + 1 = 10 Degree, Neutral Face Angle
Aldila Rogue 60 gram, 130 MSI, 45.5"
Golf Pride MCC Align
What I like about this driver versus my Mavrik Sub Zero is that it offers a little more forgiveness across the face and is able to maintain ball speed even of mis hits. It sits square and has a slight fade bias which I like. I've stuck with my tried and tested Aldila Rogue shaft which is very stable and helps me generate 1 – 2mph more club head speed than other shafts that I have tested. I prefer the Golf Pride Multi Compound grips for use in all weathers and now with the Align rib at the back which I like as it helps me to find a consistent hand placement.
3 Wood –  Callaway Epic Speed 15 degree

Aldila Rogue 70 gram, 130 MSI
Golf Pride MCC Align
Callaway have always made great 3 woods, right from the Big Bertha War Bird way back in 1995. They always sit on the ground well and the face isn't too shallow like some brands, so it makes a good driver substitute off the tee also. Same shaft as in the driver, except its 10 grams heavier because of the shorter shaft.
Hybrids – Callaway Apex STD 21 2/18 & 3/20

Mitsubishi MMT 80 S
Golf Pride MCC Align
These standard Apex hybrids have a slightly larger head than the Apex Pro hybrids that I have used in recent years. As I am generally a low ball hitter these help me generate height and stop at the long end of the bag. As they are one of the few hybrids offering adjustability I can dial in the distance gapping when needed. They feature the latest version of Jailbreak and the 2021 version of Callaway's Cup Face technology for faster ball speed across the face. The Mitsubishi MMT 80 gram shaft is slightly lower spinning than the stock Recoil shaft which means the ball is less likely to balloon into the wind.
Irons –  Callaway Apex CF21 4 – 9

Project X LZ 6.0, + half inch
+ 2 Degrees upright
Golf Pride MCC Align
This is the 4th generation of the Apex iron that was first introduced in 2014. This latest version of the forged distance iron features more tungsten in the longer irons for easier launch and again the flash cup face for faster ball speeds. I see very similar overall performance to my Apex CF19's with a 7 iron carry of 168 but with the added benefit of a little more forgiveness. I've switched to the Project X LZ which has a slightly softer mid section than my previous Nippon Modus, giving me slightly higher launch in the 4 and 5 irons.
Wedges – Callaway MD5

48/10S Chrome
Project X LZ 5.5, + half inch
+ 2 degrees upright
Golf Pride MCC Align
54/12X & 58/12X Raw
Project X LZ 5.5, + half inch
STD Lie
Golf Pride MCC Align
Callaway tend to stick with tried and trusted designs and the wedges are no different. The MD5 wedges feature Jaws groove in groove technology with additional micro milled grooves on the face for increased spin. I prefer the raw or rusty look to reduce glare on those few sunny days we get in Ireland. Some people prefer 4 wedges, but I'm happy with just 3 a PW, SW and LW . I find more benefit putting in an extra hybrid at the long end of the bag. Same shaft as my irons, just a little softer flex as there is less speed with many partial shots.
Putter – Odyssey Toulon Austin
Stroke Lab shaft, 34"
I have a tendency to leave the putter face open and lead with the heel at times so a putter with a good amount of toe hang suits my stroke and helps me square the face. I've never been a big fan of face inserts and prefer the firmer feel of steel as it gives me more feedback. Stroke Lab shaft and midsize grip help with stability on off centre hits.
Ball – Callaway Chrome Soft X LS 21

The latest version of the successful Chrome Soft ball is the Chrome Soft X low spin. Like most 4 piece premium balls this one is designed to be long and low spinning with the driver but also high spinning with thew short irons and wedges. I prefer the Triple Track lines on the ball for improved putting accuracy. Triple Track uses Vernier Hyper Acuity to improve alignment compared to a regular side stamp or pen marked alignment aid.
Glove – Callaway Tour Authentic

The Tour Authentic glove is made from premium grade Cabretta leather which moulds to the shape of my hand well. The down side is that they aren't all that durable compared to a synthetic glove.
Bag – Callaway Epic Speed Tour Staff Bag

The same bag Callaway Tour Professionals are using in 2021. Tour branding, GPS pocket, integrated umbrella sleeve, and two full-length apparel pockets. As tour bags go this one is quite lightweight but also fully waterproof.
Mark Heinemann PGA Advanced Professional 087 2209663