What We Do
Getgolfing.ie provide golf tuition and associated services throughout County Kerry, Ireland. Head PGA Advanced Professional, Mark Heinemann has over 25 years of dedicated experience coaching all players – from novice to professional level.
Learn – Improve – Perfect
Learn Golf – Beginner level individual & group lessons.
Improve your golf – Improvement programmes for established players.
Perfect your golf – Elite level performance coaching & mentoring.
Introducing the next generation to the game of golf is at the forefront of the Getgolfing.ie ethos. Our introductory junior golf programmes provide children from the age of five with the tools to improve and enjoy this great game. Learning skills that will last for a lifetime, and have fun doing it. Get your child started on their golfing journey today. Register for either individual tuition, group lessons, golf camps or our schools soft golf programme.
WATCH VIDEOS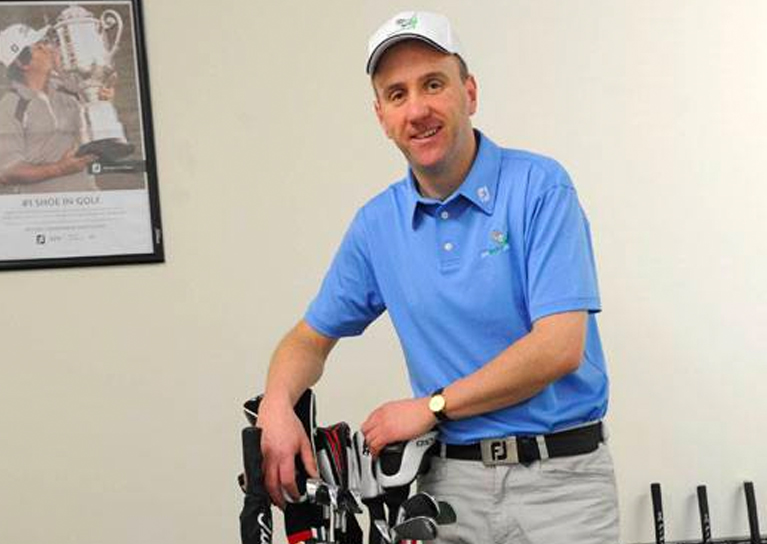 About Mark Heinemann lead coach
Originally from Shropshire, England Mark has been based in Killarney, Co Kerry, South West Ireland since 2002 and is Head Professional at Killarney Golf & Fishing Club.Mark coaches players of all ages and abilities, helping students to utilise their natural abilities so they can consistently shoot lower scores and become better golfers.
So whether you are looking for  golf lessons in Killarney or online golf lessons or considering updating your equipment with a club custom fitting session, give Mark a call.
"After personally observing and the methods of many world renowned golf coaches and psychologists, I am able to deliver outstanding instruction to all golfers. I believe in sound fundamentals to match each pupil's requirements"
Mark Heinemann
Check Out The Get Golfing Blog
Testimonials
I have been playing golf off and on for over 30 years, taking the odd lesson and working on my game when my football commitments allowed.I recently started taking lessons with Mark at Skellig Bay Golf Club and immediately felt that we where both talking the same language.Mark was able to explain, demonstrate and ultimately allow me to feel the correct take away movement in my back swing.I feel confident that my game is progressing in the right way and would have no hesitation recommending Mark as a golf instructor for all standards of golfer.

Jack O'Connor

7 Handicap, Ballinskelligs
I have been playing golf on a regular basis for 5 years. Before that maybe only about 4 or 5 rounds per year and struggled because I used to grip the club cack handed. I became a member of Skellig Bay Golf Club in 2008 where I met Mark and began taking lessons from him on a regular basis. My first handicap was 24 and wasdown to 9 within 3 years. Of course the golfer has to put the work in but I certainly wouldn't have become a single figure player without Mark's help and guidance. Mark has the ability to explain everything in a clear and easy to understand way. His effort is exceptional and the time he put in to a person who really wants to improve their game is unreal. I can recall many occasions where we have gone well in to a second hour if that was what was needed.I have already recommended Mark to my golfing friends and family and would encourage anybody who really wants to improve their game to also book a lesson straight away.

Vernon Devane

9 Handicap, Caherciveen
I started playing golf about 10 years ago, taking the odd lesson and reading books and magazines and playing the odd game ofgolf with friends and always went home fairly embarrassed about how badly I played.I recently started taking lessons with Mark at Beaufort & The Ross Golf Club and after 3 lessons with Mark I have seen a vast improvement in my game. I now enjoy going to the driving range and practice what Mark thought me.Mark was able to explain, demonstrate in a very easy manner. I now feel confident and can see progress in my game and now I don't feel
embarrassed after my game. I highly recommend Mark as a golf instructor especially those who want to lower their handicap. Best of luck Mark.

Denis Lyne

Beginner, Killarney
I have been playing golf off and on for over 30 years, taking the odd lesson and working on my game when my football commitments allowed.I recently started taking lessons with Mark at Skellig Bay Golf Club and immediately felt that we where both talking the same language.Mark was able to explain, demonstrate and ultimately allow me to feel the correct take away movement in my back swing.I feel confident that my game is progressing in the right way and would have no hesitation recommending Mark as a golf instructor for all standards of golfer.

Jack O'Connor

7 Handicap, Ballinskelligs
I have been playing golf on a regular basis for 5 years. Before that maybe only about 4 or 5 rounds per year and struggled because I used to grip the club cack handed. I became a member of Skellig Bay Golf Club in 2008 where I met Mark and began taking lessons from him on a regular basis. My first handicap was 24 and wasdown to 9 within 3 years. Of course the golfer has to put the work in but I certainly wouldn't have become a single figure player without Mark's help and guidance. Mark has the ability to explain everything in a clear and easy to understand way. His effort is exceptional and the time he put in to a person who really wants to improve their game is unreal. I can recall many occasions where we have gone well in to a second hour if that was what was needed.I have already recommended Mark to my golfing friends and family and would encourage anybody who really wants to improve their game to also book a lesson straight away.

Vernon Devane

9 Handicap, Caherciveen
I started playing golf about 10 years ago, taking the odd lesson and reading books and magazines and playing the odd game ofgolf with friends and always went home fairly embarrassed about how badly I played.I recently started taking lessons with Mark at Beaufort & The Ross Golf Club and after 3 lessons with Mark I have seen a vast improvement in my game. I now enjoy going to the driving range and practice what Mark thought me.Mark was able to explain, demonstrate in a very easy manner. I now feel confident and can see progress in my game and now I don't feel
embarrassed after my game. I highly recommend Mark as a golf instructor especially those who want to lower their handicap. Best of luck Mark.

Denis Lyne

Beginner, Killarney