WORK WITH ME
You can work with me in-person or online

Coaching in Killarney
Whether you are embarking on the journey of learning golf or are an accomplished player ready for the next level, Mark can help you achieve your golfing goals. Mark is an advanced member of the PGA with over 25 years coaching experience.
Golf lessons and club fittings are available at 2 local venues under Getgolfing.ie umbrella, Swing Studio Killarney and Killarney Golf Academy @ Killarney Golf & Fishing Club.
LEARN MORE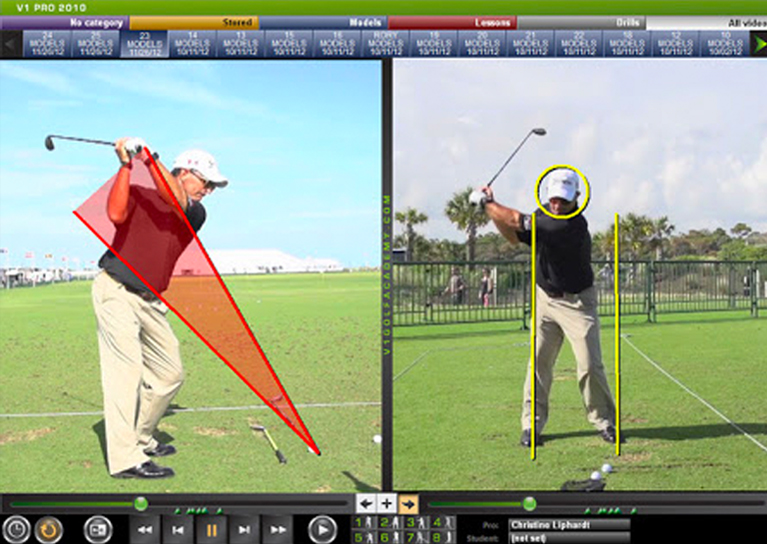 Online Coaching
The next best thing to working with me in person. Wherever you are in the world I can help you improve your golf.
Send me video of your swing via the V1 Golf App and I will reply with a full analysis of your swing including suggested areas of improvement, recommended drills and exercises to improve your game.
LEARN MORE
Testimonials
I have been playing golf off and on for over 30 years, taking the odd lesson and working on my game when my football commitments allowed.I recently started taking lessons with Mark at Skellig Bay Golf Club and immediately felt that we where both talking the same language.Mark was able to explain, demonstrate and ultimately allow me to feel the correct take away movement in my back swing.I feel confident that my game is progressing in the right way and would have no hesitation recommending Mark as a golf instructor for all standards of golfer.

Jack O'Connor

7 Handicap, Ballinskelligs
I have been playing golf on a regular basis for 5 years. Before that maybe only about 4 or 5 rounds per year and struggled because I used to grip the club cack handed. I became a member of Skellig Bay Golf Club in 2008 where I met Mark and began taking lessons from him on a regular basis. My first handicap was 24 and wasdown to 9 within 3 years. Of course the golfer has to put the work in but I certainly wouldn't have become a single figure player without Mark's help and guidance. Mark has the ability to explain everything in a clear and easy to understand way. His effort is exceptional and the time he put in to a person who really wants to improve their game is unreal. I can recall many occasions where we have gone well in to a second hour if that was what was needed.I have already recommended Mark to my golfing friends and family and would encourage anybody who really wants to improve their game to also book a lesson straight away.

Vernon Devane

9 Handicap, Caherciveen
I started playing golf about 10 years ago, taking the odd lesson and reading books and magazines and playing the odd game ofgolf with friends and always went home fairly embarrassed about how badly I played.I recently started taking lessons with Mark at Beaufort & The Ross Golf Club and after 3 lessons with Mark I have seen a vast improvement in my game. I now enjoy going to the driving range and practice what Mark thought me.Mark was able to explain, demonstrate in a very easy manner. I now feel confident and can see progress in my game and now I don't feel
embarrassed after my game. I highly recommend Mark as a golf instructor especially those who want to lower their handicap. Best of luck Mark.

Denis Lyne

Beginner, Killarney
I have been playing golf off and on for over 30 years, taking the odd lesson and working on my game when my football commitments allowed.I recently started taking lessons with Mark at Skellig Bay Golf Club and immediately felt that we where both talking the same language.Mark was able to explain, demonstrate and ultimately allow me to feel the correct take away movement in my back swing.I feel confident that my game is progressing in the right way and would have no hesitation recommending Mark as a golf instructor for all standards of golfer.

Jack O'Connor

7 Handicap, Ballinskelligs
I have been playing golf on a regular basis for 5 years. Before that maybe only about 4 or 5 rounds per year and struggled because I used to grip the club cack handed. I became a member of Skellig Bay Golf Club in 2008 where I met Mark and began taking lessons from him on a regular basis. My first handicap was 24 and wasdown to 9 within 3 years. Of course the golfer has to put the work in but I certainly wouldn't have become a single figure player without Mark's help and guidance. Mark has the ability to explain everything in a clear and easy to understand way. His effort is exceptional and the time he put in to a person who really wants to improve their game is unreal. I can recall many occasions where we have gone well in to a second hour if that was what was needed.I have already recommended Mark to my golfing friends and family and would encourage anybody who really wants to improve their game to also book a lesson straight away.

Vernon Devane

9 Handicap, Caherciveen
I started playing golf about 10 years ago, taking the odd lesson and reading books and magazines and playing the odd game ofgolf with friends and always went home fairly embarrassed about how badly I played.I recently started taking lessons with Mark at Beaufort & The Ross Golf Club and after 3 lessons with Mark I have seen a vast improvement in my game. I now enjoy going to the driving range and practice what Mark thought me.Mark was able to explain, demonstrate in a very easy manner. I now feel confident and can see progress in my game and now I don't feel
embarrassed after my game. I highly recommend Mark as a golf instructor especially those who want to lower their handicap. Best of luck Mark.

Denis Lyne

Beginner, Killarney