Are you a new golfer living in Germany, Austria, Switzerland or Luxembourg?
Would you like to prepare for your Platzreife in Ireland ?
Here at Killarney Golf Academy under the guidance of Head Professional Mark Heinemann we offer a wide range of options designed to ensure that you pass the Platzreife first time.
What is the Platzreife?
In order to be able to play alone on the golf course in most of the German speaking nations you need a kind of "driver's license",this is called the Platzreife. In order to obtain your Platzreife you will need to pass an exam which consists of 3 parts, a theory test, a practical test, and on course play, the details of which are below. If successful you will be able to obtain an official ID that certifies that you have the basic theoretical knowledge have mastered and reached a level of play that suits you allows you to approach the golf course with confidence.
Practically all golf clubs and short golf courses (Driving Ranges, Pitch & Putt) in the German speaking nations offer the chance to take the test, either in individual lessons or in small groups. In addition to practical training this also includes teaching the rules of golf and the golf etiquette.
https://killarneygolfclub.ie/golf-academy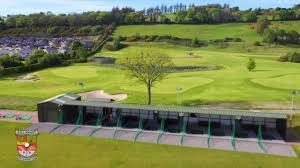 How do I get my first EGA Handicap?
After passing the handicap test, you can Participate in tournaments or get EDS (Extra Day Score) cards. You will need to score at least 36 Stableford points over 18 holes or of 18 Stableford points over 9 holes on one of the shortened golf courses. The result must be signed by a counter who has an EGA handicap themselves of at least 36 as proof. The first EGA handicap will be after the calculated net Stableford points achieved and is 54 or better. If the handicap test score card can also be used for the first handicap. A golf handicap can only be obtained after passing the Platzreife.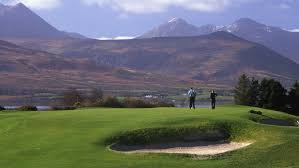 What does the Platzrefie test consist of?
Part A, B & C.
A:  Theory test: 40 questions about etiquette and rules.
The theory test is passed if at least 28 answers are correct.
B: Practical tests
6 individual practical tests completed on the practice facility (putting Green, chipping green, driving range). These can be completed in one or several hours/stages at Killarney driving range. The pro checked the results and enters them on a test card. 
Shots off the tee, 6 balls. Goal:3 out of 6 balls in flight over a distance of 80 m for men and 70 m for women
Long game: shots with a wood, hybrid or middle iron, 6 balls. Goal: 3 out of 6 balls in flight over a distance of 60 m
Pitching: Length 15 to 18 m to the hole, 6 balls. Goal: 2 of 6 balls in a circle with a radius of 6 m
Chipping: Length 10 to 12 m to the hole, 6 balls. Goal: 2 of 6 balls in a circle with a radius of 4 m
Bunker: Objective: 2 of 6 balls must be on the green to lie down
Putting: Course: 9 holes (3×3 m, 3×6 m, 3×9 m). Goal: max. 21 strokes with one ball
C : On course playing ability test
After passing section A the theory test and section B the practical tests you can then take section C, the on course playing test over a 6 or 9 hole course, this may also take place on a Pitch & Putt course.

Competence in the following areas is required –
Tee shots, long game, pitching, chipping, bunkers and putting.
Completing the score card and converting to Stableford points.
You will also need to prove that you can play quickly, move safely on the golf course, not endanger other golfers and possess a basic knowledge of the rules of golf.
The PGA Professional assesses the player's play and decides whether the exam is passed.
If the exam is taken on a  homologated course and held over 9 or 18 holes the signed scorecard can be used for handicap purposes. This will be recognised as soon as the player joins a Golf Club. A club may have additional terms for this Define attainment of the handicap.
Prepare for your Platzreife the right way
At Killarney Golf Academy we work with golfers of all ages and abilities and have helped many new golfers start out on their golfing journey.
Contact us now to find out more information on our 3 and 5 day Platzreife preparation packages https://getgolfing.ie/make-an-enquiry/
Killarney, Co Kerry, Ireland.
If you are visiting Killarney you might like to play some of the basic level courses in the area also.
These include:
1 – Killarney Golf & Fishing Club, Academy course, 9 holes
2 – Castlerosse, 9 holes .
3 – Ross Golf course, 9 holes
4 – Beaufort GC, 18 holes
Suggested activities for your afternoons and free days –
Lakes of Killarney tour (half day)
Molls Gap and Gap of Dunloe tour (half day)
Visit Torc Waterfall,Ladies View & Ross Castle (half day)
Day trip to Dingle town (full day)
Ring Of Kerry tour (full day)
We would also recommend either of the following hotels as they both border Killarney Golf Club and are within walking distance of the practice facilities. Both also have excellent leisure facilities.
Castlerosse Park Resort – https://www.castlerosse.ie/
Hotel Europe – https://www.theeurope.com/
Nearby airports
Kerry – 15 minutes
Cork – 50  minutes
Shannon – 90 minutes
https://getgolfing.ie/work-with-me/
Platzreife preparation courses in Ireland
Platzreife preparation courses in Ireland