Private Practice Golf Studio Hire.
Swing Studio Killarney is a unique, 100 sq metre state-of-the-art indoor golf facility, delivering a premium practice experience. The Performance Centre has everything you need to take your game to the next level. –
Flightscope launch monitor
Make this year your best golfing year yet.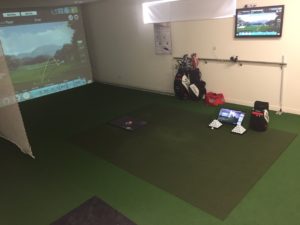 Private 1 hour practice sessions available for individuals and groups of up to 3 players.
Call PGA Professional Mark Heinemann 087 2209663 for more information.
About Mark Heinemann lead coach
Originally from Shropshire, England Mark has been based in Killarney, Co Kerry, South West Ireland since 2002 and is Head Professional at Killarney Golf & Fishing Club.Mark coaches players of all ages and abilities, helping students to utilise their natural abilities so they can consistently shoot lower scores and become better golfers.
So whether you are looking for  golf lessons in Killarney or online golf lessons or considering updating your equipment with a club custom fitting session, give Mark a call.
"After personally observing and the methods of many world renowned golf coaches and psychologists, I am able to deliver outstanding instruction to all golfers. I believe in sound fundamentals to match each pupil's requirements"
Mark Heinemann
Club Repairs
Located within Swing Studio Killarney our on site equipment repair workshop is fully equipped to cater for all your club repair and alteration requirements.
Repairs Tariff
Re gripping – Various from €10
Re shafting – Basic Steel €35 + grip
Basic Graphite €49 + grip
Premium Steel €poa
Premium Graphite €poa
Shorten club + re fit original grip €15
Shorten club + new grip €10 + grip
Lengthen club + re fit original grip €20
Lengthen club + new grip €15 + grip
Loft & lie change per club €5
Remove broken shaft €poa
Cure rattle inside head €poa
Tighten loose head €poa
Increase/decrease club weight/ swing weight €poa
See our range of  D.I.Y grips
Swing Studio Killarney – Indoor golf
Killarney driving range