Hitting Hybrids, Long Irons or Fairway Woods | What's the Difference?
This question is one of the most heavily asked in the game of golf, and is even one that I have asked myself from time to time. Well, this article will answer all of your questions, from the differences between the clubs as well as the difference from actually hitting the two clubs and much more. Although this article heavily focuses on hybrids, long irons or fairway woods we will also shortly discuss what the difference between a fairway wood and hybrid is, because yes there is a difference after all. Finally we will go through some rapid fire frequently asked questions to fully wrap up our discussion. For the answers to all your questions and more, just keep reading!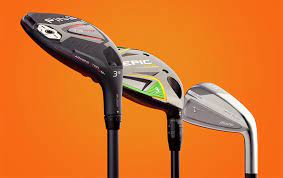 Hybrids vs. Irons – What's the Difference?
Well for starters, they look different of course with the hybrid having a much larger club head than a long iron. A long iron tends to be much skinnier than a hybrid, but a hybrid is still not as big as a fairway wood, which we will discuss more later. Besides the club head size, the center of gravity is further back on a hybrid making it easier to hit than a long iron. In addition to making it easier to hit, this aft center of gravity adds to the height of the golf shot and increased launch angle. The added height and launch angle also makes for increased spin, something that will make a larger impact if you are not a tour pro. Also, a hybrid does add around eight to twelve yards to your shot, which is something an iron makes up with the roll out of the golf ball.
Besides these effects, there is no real difference between shaft flex and a hybrid is only slightly longer or equal to the length of a long iron. In summary, the main differences between a hybrid and long iron are only the clubhead size, and the resulting effects caused by it, to include: more  distance, more backspin, higher launch angle, and higher shot peak.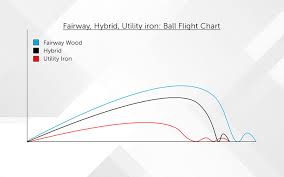 Hitting a Hybrid vs. Hitting an Iron
In short, there is not much of a difference between the swing of a hybrid and swing of an iron. You still want to hit down on the ball and take a little divot, but keep in mind that consistently large divots will cause extra stress on the club head. You certainly do not want to watch your club head fly off into the distance after only using it for a little since you are putting so much force on a large head into the ground. I have seen this happen with a client of mine and his driver, which obviously is not a good thing to do with your driver, but the same can happen to your new hybrid.
Treat your hybrids as just a middle iron swing instead of a long iron, so simply putting it a little back in your stance should do the trick. Do not try to think of lifting your ball into the air with your club, as that is also how you make divots behind the ball as well. Overall, there is not a big difference between the swing of a hybrid versus a long iron, but be extra careful with the divots you make so as not to break your new club. 
Fairway Woods
Fairway woods offer the largest club head size combined with a  centre of gravity that is low and back combine to give you the highest ball flight and most stop of the 3 long end options. Ball position is critical when hitting fairway woods to ensure a slight downward angle of attack.
The ball should be approximately 3 inches inside your left heel.  Or stated another way, the ball should be placed about half way between the driver position and the middle of your stance. When considering the swing arc, the slightly forward ball position allows the club head to strike the ball at the bottom of the arc. The descending angle of the fairway wood will strike the ball then take a shallow divot indicating a proper ball strike.
As with all ball strikes, weight must be on the front foot prior to impact. Shifting weight forward when hitting a fairway wood is a little more difficult. Since the fairway woods are longer clubs and the swing is flatter, the tendency is to help the ball get up by slightly lifting the club. Trying to lift the ball is a mistake and usually results in topping the ball and dribbling it down the fairway. Getting to the front foot prior the strike will enable you to hit down with the fairway wood allowing the loft built into the club to project the ball up and forward as designed.
Correct Gapping between clubs
So what ever clubs you decide to go with at the long end of your bag, be sure that you don't double up. Make sure that you have a carry distance of 12 – 15 yards between each club to ensure correct gapping. So often I see golfers with 2 or more clubs that when measured we find out are going a very similar distance, or no more than 5 yards of each other. My advice would be to switch one out and add an additional wedge at the short end of your bag for versatility under 90 yards. At Killarney Golf Academy we offer 1 hour gapping sessions to determine the carry distances of all of your clubs and identify any problem areas.  We also offer a range of demo clubs to try from Callaway, Cobra, Ping & Mizuno.
 Mark Heinemann
PGA Professional Killarney Golf Academy & Getgolfing.ie
Email – getgolfing.ie@gmail.com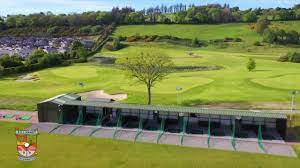 Phone – 087 2209663
Facebook – Killarney Golf Academy Mark Heinemann PGA
Youtube – Mark Heinemann PGA
Instagram – markheinemannpga